Gallery Room 2
This web page contains pictures of box turtles from members of the Box Turtle Discussion List. All pictures are owned by the photographers, and may not be used by other people.
See more box turtles in the other gallery rooms and note the different coloring and expressions of individuals.
Gallery of Turtle Baby Pictures


Scroll down and see our turtle friends.
Give the pics a few minutes to appear, please.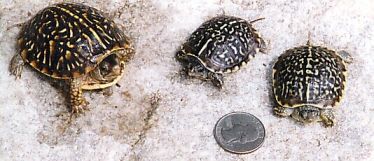 Ian has a herd of beautiful Easterns. The hatchlings are Desert box turtles.
This is an adult Desert box turtle. Sammy, friend to Sigrid.
Dafney is Kelly T.'s female Eastern box turtle.
Two of Mark B.'s Three-toed box turtles enjoying their meal.
Gerry's Eastern box turtle.
Poppy, a male Eastern, friend of Marty.
This is one of Jimmy J's female Easterns, Peg.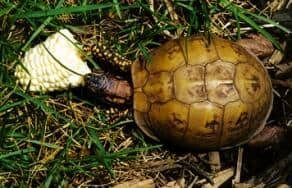 Huntley the Three-toed male is care for by Kathrin B.
This is Brenda's beloved male Eastern box turtle, Dude.
Dude has signs of MBD but he is getting treated for it now.
Kristen's female Three-toed, Ivy.
Brighty, Lisa S.'s handsome box turtle. She wants to know what you think, is he a Gulf Coast?
This is Malin's male Ornate, Speedy.
Margaret and Archie's Easterns, JR and Shelley, are two very content turtles.
Anne's herds of box turtles and some of their offsprings.
---
Return to Box Turtle Care and Conservation
---
Disclaimer: Please use all information contained on this web site at your own risk. Last updated on December 30, 2010 .