Gallery Room 3
This web page contains pictures of box turtles from members of the Box Turtle Discussion List. All pictures are owned by the photographers, and may not be used by other people.
See more box turtles in the other gallery rooms and note the different coloring and expressions of individuals.
Gallery of Turtle Baby Pictures


Scroll down and see our turtle friends.
Give the pics a few minutes to appear, please.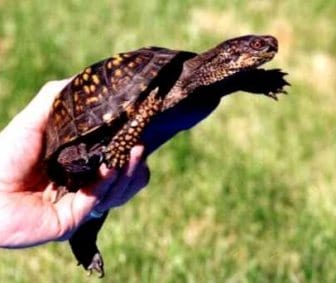 Our newest poster turtles belong to Marg and Archie. They are Easterns.
Here is Please, a female ornate, friend of Rob C.
Riley and Gonzo are Kelly T.'s Eastern box turtles.
Here's a pic of Sandy and Cloe, Michelle H.'s pretty Three-toeds.
Ian's beautiful Easterns. Looks like the one thinks the other is a big baby :)
Closeup of one of Ian's Desert Ornate hatchlings.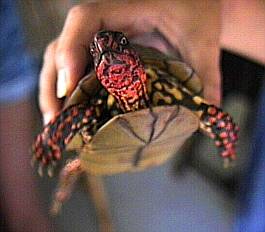 Newt, Terry's male Three-toed.
These are Paula K's box turtles. Sherman, a male Gulf Coast and Violet, an Eastern female.

Pity, Ben's Three-toed box turtle.

Carapaces of a Ornate and Florida box turtle.

Here are their bottom shell, the plastron.

Two turtles in a their pool.
---
Return to Box Turtle Care and Conservation
---
Disclaimer: Please use all information contained on this web site at your own risk. Last updated on December 30, 2010 .